Specialist Flood Damage Restoration Brisbane
Flood Damage Restoration Brisbane– Flooding of water in your homes and offices can be a matter of serious concern. Flooding can happen due to heavy rains, natural flooding, roof leakage, and bursting of pipes etc. Water flooding will cause severe damages and problems to your property and belongings. Your carpet can face the worst damages as well. Carpets soaking in water will lead to deterioration and may result in a complete compromise of the integrity of the carpet.
It is important to hire professionals as we have a complete restoration of the carpet. We are a local name in Brisbane and can reach your premises in no time. In an emergency, our professionals give a fast and quick response. We will restore any amount of damage suffered by the carpet efficiently. Ignoring carpet flood damage can expose you to many harmful germs and pathogens. Dirty water will contaminate your home environment with these pathogens.
Carpet Water Extraction
Water extraction is the most important task to restore a flood-damaged carpet. At Flood Water Damage Restoration Brisbane, we give you the best carpet water extraction service in Brisbane. We have all the latest and modern water extraction equipment and techniques which saves your time for this important task in carpet restoration. Our professionals have years of experience and are well trained for water extraction. Flood water contains so many bacterias and germs which cause severe disease if you do not get restored them with a professional carpet restoration service. We are a well-known and most recommended name in the carpet restoration industry and our happy and satisfied customers are proof of this. We can extract any amount of water from your carpet.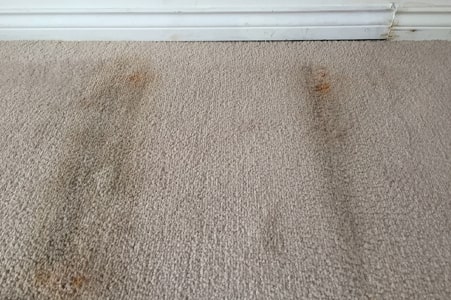 Also, Mould and Algae Can Attack The Carpet and Cause Problems
Carpet water damage can compromise the integrity of the carpet
Dirty water will contaminate the carpet with germs and pathogens
Professionals can provide complete restoration of flood-damaged carpets.
We will deliver the best restoration service for you
Ignoring the water damage will expose you to many diseases and illnesses
What Can Flood Water Damage Restoration Brisbane Do?
Flood Water Damage Restoration Brisbane is an experienced name in Brisbane that can provide you with complete flood water damage restoration service. We are a local brand in Brisbane and we cover all the areas of the town. Our professionals give a fast and quick response in an emergency. The professionals will reach your premises within the same day of booking an deliver the best carpet flood damage restoration Brisbane service.
Accordingly, we will assess the amount of damage suffered by the carpet and deliver restoration. All the water and dirt is extracted using hot water injection. The hot pressurised water is injected into wet carpets which removes all the dirty water within the carpet. After hot water injection, we treat the carpets with natural disinfectants. It is necessary to get rid of all the germs and pathogens to maintain the hygiene of the carpet. Carpet sanitisation will prevent the exposure of germs and also maintain the home environment. Then, we carry out fast carpet drying work to stop further damage.
Quick Response in case of emergency
Emergency Carpet Flood Water Damage restoration Brisbane service
Same Day Carpet Restoration Services
Fast Wet Carpet Drying
Certified and Qualified professional carpet cleaners
Instant Carpet Water Extraction service through hot water injection
Emergency Carpet Drying and Carpet Cleaning
Affordable Carpet Flood Damage Restoration Service
Variety Of Services Offered By Us :
We are an experienced brand that will provide you with all kinds of carpet restoration services.
Some Common Services Delivered by Us are Mentioned Below:
Carpet Sewage Water Removal Brisbane
Flood Recovery Service
Carpet Sanitization Adelaide
Emergency Carpet Water Extraction
Flooded Carpet Clean Up
Flood Area Cleans Up
Carpet Mould Removal
Roof Leakage On Carpet
Why Choose Flood Water Damage Restoration Brisbane?
Our satisfied customers are proof of the quality of flood damage restoration service we deliver. Our professional carpet cleaners have years of experience and training. With the help of latest equipment and tools, we can deliver any kind of restoration service for you. While removing germs, dirt and mud, we will make sure that no amount of water is left in the carpet. We follow an instant carpet drying method to completely dry the carpet and prevent further damage. We will also deliver the best and effective carpet sanitisation as well. The use of safe and eco-friendly products to get rid of microbes and pathogens.
We take keen measures to prevent mould and algae formation. In case, there is a sign of it we can also treat black mould. All of our carpet restoration services are available for you at affordable costs throughout Brisbane. We offer our customers of Brisbane with the same day Flood Water Damage Restoration Brisbane service. Now, get our professionals for the restoration works at affordable prices.
Carpet Flood Recovery Service
Recovering your flooded carpets on your demand instant with our professionals. As, once the floodwater seeps through the carpet into the underlay the concrete or wooden floor beyond the underlay, then the flood recovery is way more complex more effort and time-consuming. We have years of experience in providing fast and efficient carpet flood water recovery services.
Years of Experience and training in flooded cleanup in Brisbane
Fast and quick Response in Emergency Flooding
Experienced and Trained Staff Of Professional carpet cleaners
Affordable Flood Water Damage Restoration Services
Same day flood damage restoration service
Perfect and Fast Carpet Drying by many methods
Quick-drying and cleaning by machinery and equipment
Carpet sanitization to maintain the hygiene
Eco-friendly products For Carpet Deodorisation
Carpet Mould Removal and algae removal if needed
Local Carpet Restoration Service in Adelaide
Available round the clock every day 24×7
Affordable Same Day Carpet Flood Damage Restoration Brisbane Services
We always make sure that you get the best and high-quality service at reasonable costs. We follow a no-compromise policy when it comes to the quality of service we deliver. Our professional carpet cleaners work round the clock o offer you assistance in an emergency. We know the ignoring the carpet water damage will result in problems and damages. So we offer our same day carpet flood damage restoration service to restore your carpets on the same day of booking. Avail the benefits of our affordable emergency carpet flood damage restoration service today in Brisbane. We promise to completely restore your flood-damaged carpets within a day.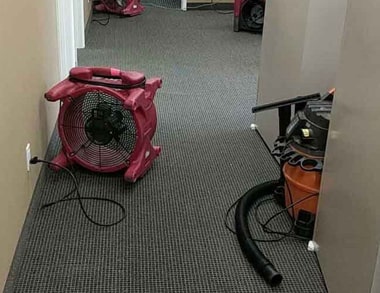 Yes, we have the most advanced dryers which can dry your carpets overnight. Book us by calling on our given number or you can connect with us online.
Not at all, we do not leave any unwanted element on the task side which can put you in trouble.
Yes, to restore the flood water is our speciality. Hire us to get a better restoration experience.
[vsgmap address="Brisbane, QLD, Australia" width="100%"]
Location: Brisbane, QLD 4000